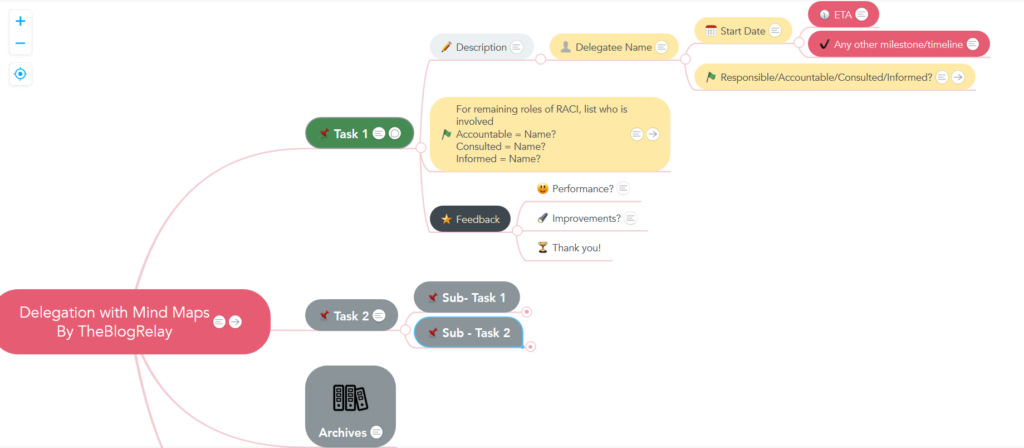 The delegation mind map is a simple tool to help you practice delegation in the simplest & engaging way. It is an essential leadership skill, and it does require practice to master it. It requires some effort to decide which tasks you need to delegate and which you need to do by yourself. Then, for someone to work, you need to assign some authority to their role & provide the support they might require
Though it sounds like a lot of work, it won't seem tedious with continued practice. With this tool. you can certainly derive benefits of delegation in your daily work lives & career growth
Why practice with this tool?
Firstly, it helps you create SMART/SMARTER tasks, which leave no room for confusion or missed requirements.
Secondly, practicing with this tool will teach you how to define responsibility & accountability for the tasks.
Measuring the work this way gives an added benefit to defining clear KPIs & provide quantitative feedback.
As a leader/manager, you can also visualize the team members' workload of delegated tasks.
What you'll download?
Your zip package consists of the following files:
MindMeister mindmap template. You can create your own copy by signing up with MindMeister, its free and it's awesome tool!
---
Like the tool? Make a contribution to help me keep the blog!
---
Template Details
Software: MindMeister
Version: v1.0
Language: English
Licensing: This template is meant for educational purposes only. DO NOT sell/modify/re-distribute for any commercial or other purposes.
Additional Resources
We have covered it all for you. It's time to practice now. Download the delegation tracker template now!