Delegation is a skill and to delegate effectively is a process that everyone should learn & adapt to empower themselves & their team

Surbhi Mahnot
To begin with, you cannot delegate all your work; it requires effort to effectively decide which tasks you need to delegate and which you need to do by yourself. Then, for someone to work, you need to assign some authority to their role & provide the support they might require. Though, in reality, not much thought process is given to these details. Managers or leads are rarely willing to invest much effort in planning work for others.
Effective delegation is not something you are taught by your organization very often. It is one of those things that everyone assumes you learn with experience.
How to delegate effectively?
Delegation is an incredibly helpful skill for personal development, grabbing more growth opportunities, and boosting team morale & confidence. To delegate effectively, here is a process that involves the following steps:

Let us also practice delegation as we proceed through the process of learning.
#1. Identify work to delegate
To begin any work, the first step is to have all the details from the start to the expected end outcome. With this in mind, understand what type of tasks you can delegate. For example:
Ones that can be done better – You can use someone else's skills & experience to get your work done in a much better way instead of learning yourself
That needs quick progress- At times, there are tight deadlines and multiple things to finish simultaneously. In such scenarios, working in parallel can be helpful.
Are lengthy or repetitive- Delegate work to tools. In one of my previous roles, I used to send a weekly progress report to my team. To save time and effort, I delegated this work to the project management tool (JIRA) by building a customized dashboard. Ta-da, Done! Then, every week, I just had to export the report directly & shoot an email.
Straight-forward tasks
Once you have found the tasks, the next step is to set the expected outcome. Break the task using the SMART or SMARTER acronym. Each task should:
Specific: with an outcome and no ambiguity
Measurable: a way to track progress
Achievable: have no conflicts
Realistic: given the resources, budget, time, etc.
Timebound: have clarity on when it needs to be completed
Evaluate: the feedback channel
Re-adjust: based on continuous evaluation. Whenever any change is needed, revise the goals
Exercise:
| S.no | Tasks to delegate | Fit SMART or SMARTER criteria? | Expected end outcomes | Notes/Remarks |
| --- | --- | --- | --- | --- |
| | | | | |
| | | | | |
| | | | | |
SMART/SMARTER tasks practice template
#2. Choose the right people
Every team combines experienced individuals, freshers, domain experts, etc. Each of them has a different skill set besides work commitments. These factors are crucial in choosing the right person to delegate effectively.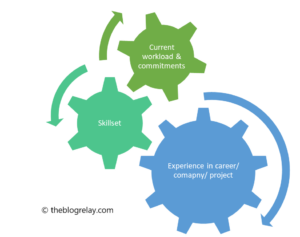 Understand your team members, identify their strengths, and balance the workload. Only then, you can assign them the tasks that they can perform the best
Choosing the right people requires you to show a lot of leadership & management practices. For example, The Situational Leadership® Model, developed by Paul Hersey and Ken Blanchard, can help understand individuals in a team. Then, Resource Capacity Planning helps identify the current workload and priorities and sets commitments. Emotional intelligence (EQ) also plays a vital role in leadership. It helps understand the individual's aspirations and motivation. All these practices will thus help you find the right resource and increase the chances of getting the work done in the best possible way.
#3. Set clear expectations
Setting the right context and highlighting the importance and clear expectations removes the ambiguity and the fear of the unknown & chances of miscommunication.
Set the context

Why is the task delegated?
Why the work is being assigned to him/her
How does this fit into the overall scope of the project?

Clear the timelines

When should the work be completed? Agree on these timelines with your team member.
Are there any other important dates in-between? For example, a demo session, training, or review.
Define priorities, if any.

Guidelines to follow

Are there any processes or techniques to follow? For instance, a task management tool to track and update progress.
Any checklist or any guideline to consider?
Is there any approval/review process in-between?
Your availability & support expectations.

Clear end goals

What are the expectations? For example, the quality of work.
How will the task progress be measured?
How will the efforts be evaluated? For example, Employee's KPI, getting feedback from team members.
In our daily routine, we often ignore these things. Also, for every task you delegate, you might not need this level of detail. But it is always a good practice to have clarity on these details.
Enjoy reading the article? Join a very engaging and thought-provoking series that can make a big difference in your growth journey!
#4. Authority & Responsibilities
Hashing out responsibilities for the team member is essential to effective delegation. The sense of accountability pushes them to work on the assigned tasks sincerely. RACI matrix is a great technique to map roles and responsibilities for everyone involved, including you. It shows who is Responsible for completing the task, who is Accountable for presenting the work, whom to Consult for any query or discussion, and whom to Inform about the work progress.
Let's practice the responsibility assignment through this simple template from the delegation perspective. Tip: Always have a single accountable person and at least one responsible person.
Exercise:
| S.no | Tasks to delegate | Name1 | Name2 | Name3 | Name4 |
| --- | --- | --- | --- | --- | --- |
| 1 | Task 1 | R | A | C/I | C/I |
| 2 | Task 2 | C | A/R | C/I | – |
RACI matrix practice template
In addition to the clear responsibilities, the next step is to add some authority to the team member's role. It gives them decision-making ability and flexibility to perform delegated tasks. Authority levels can be determined based on the type of delegation you choose.
#5. Follow-up
With most of the work done to delegate effectively, the last and the most crucial step is to manage the delegated task. You should provide support regarding supervision, the right resources, and training. Doing this helps you achieve the long-term goal of a confident team. It also gives you space for yourself to make more strategic decisions rather than actual work.
One of the most common mistakes managers/leaders make while delegating is – not following up on the tasks.
Managing delegated work is an excellent practice to re-confirm the understanding of the work & commitment at regular intervals. It also ensures the minimum deviation from the plan. But, there is a trap here. It can be easy to get into micro-management, which you should avoid in most cases.
Be aware of the work progress and ongoing discussions. For instance, a daily status update email or a brief sync-up call at the end of the day can help you stay updated on the task.
Ask the team member to mark you in CC in all email conversations (depending on the level of delegation & the authority given).
Leverage the use of project management tools. Ask the team member to not only update the task progress but also add discussion notes as comments & log daily hours spent.
#6. Feedback & Congratulate
Praise the team member for their efforts to finish the work. Constructive feedback would help develop trust & confidence in the team. It will also motivate them to work better next time
Share your feedback at regular intervals. Schedule one-on-meetings at regular intervals, once every fortnight. Discuss the work progress, any issues the team member faces & any help that might be needed.
Do performance evaluations at the end of the work. A simple technique to put the score on the KPIs can be vital for transparency. You can ask for individual scoring as well & then your scoring to get an average score.
Retrospect for what went well, what went wrong, and ways to improve.
Finally, say thank you and congratulate the team member.
Exercise:
| S.no | KPI | Individual Score (out of 5) | Your Score (out of 5) | Average Score | Remarks |
| --- | --- | --- | --- | --- | --- |
| 1 | Timely completion of work | | | | |
| 2 | Work Quality | | | | |
| 3 | Handling crises or situations | | | | |
Quantitative feedback practice template
Download this free mind map template to start practicing delegation today. This mind map is created with MindMeister. Mind mapping is a great technique for learning & visualize details which makes it one of the best choices for practicing delegation.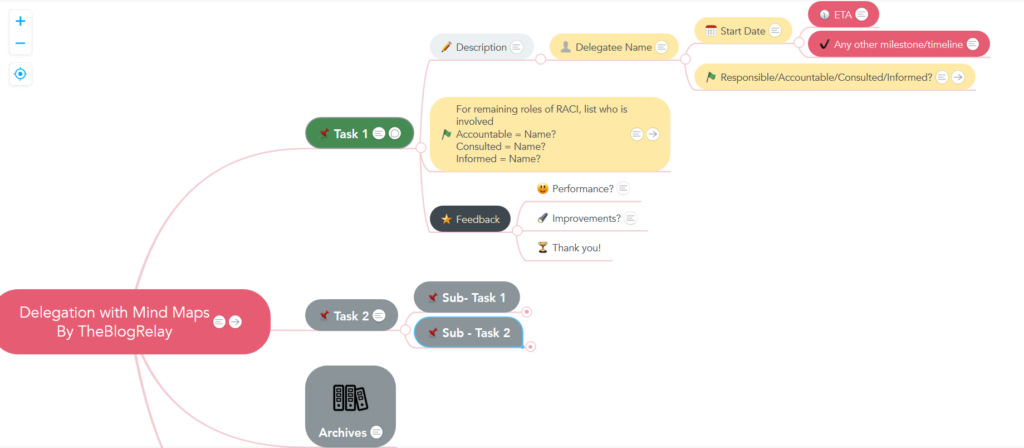 To summarize, I hope this article will help you to either learn delegation or sharpen your existing skills. Please share your experience with the way you delegate. Moreover, it would be great if you could also share your feedback about this template in the comments below. I would love to hear from you.
Keep delegating!
Want to improve your delegation skills or conduct a session for your team?
Contact me for training or one-on-one discussions. Watch this webinar with Biggerplate to understand how to delegate effectively, or download this template to get started with delegation!
Enjoy reading the article? Join a very engaging and thought-provoking series that can make a big difference in your growth journey!