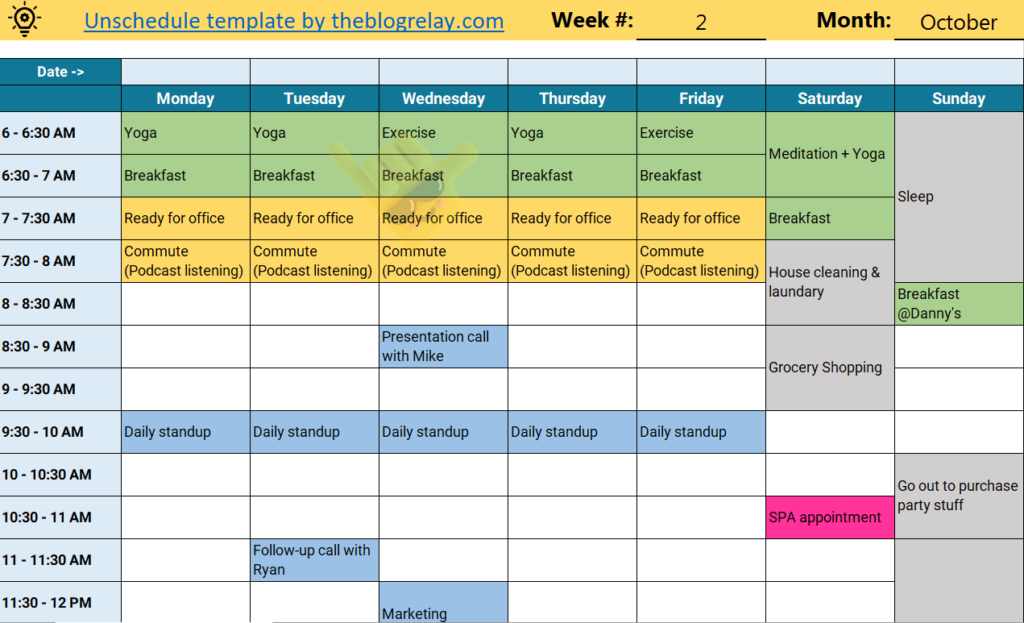 The Unschedule technique is an unconventional way to minimize procrastination & manage time. Dr. Neil Fiore details it in his top-rated book 'The Now Habit.' This Unschedule template helps you practice the technique to beat procrastination & learn time management efficiently and smartly.
Why practice this technique?
Manage time for both work & non-work-related activities
No guilt of procrastinating work
Improve focus on the task on hand because of fewer distractions
---
My blog needs a caffeine shot! Consider buying?
---
What you'll download?
Your zip package consists of the following files:
MS Excel template. You can create as many copies as you want & keep the template intact
Google sheets template. Create your own sheets from this template
PDF version for all who want to print & hang it right in front!
A sample MS excel sheet to show you how to get started
Template Details
Software: MS Excel, Google Sheets
Version: v1.0
Language: English
Licensing: This template is meant for educational purposes only. DO NOT sell/modify/re-distribute for any commercial or other purposes.
Additional Resources
Read this blog post to learn how to use the Unschedule template to beat procrastination & understand this technique in detail.
Read 'The Now Habit' book.
For anything else, you can always reach out to me for any queries or assistance.
We have covered it all for you. It's time to practice now. Download the Unschedule template now!