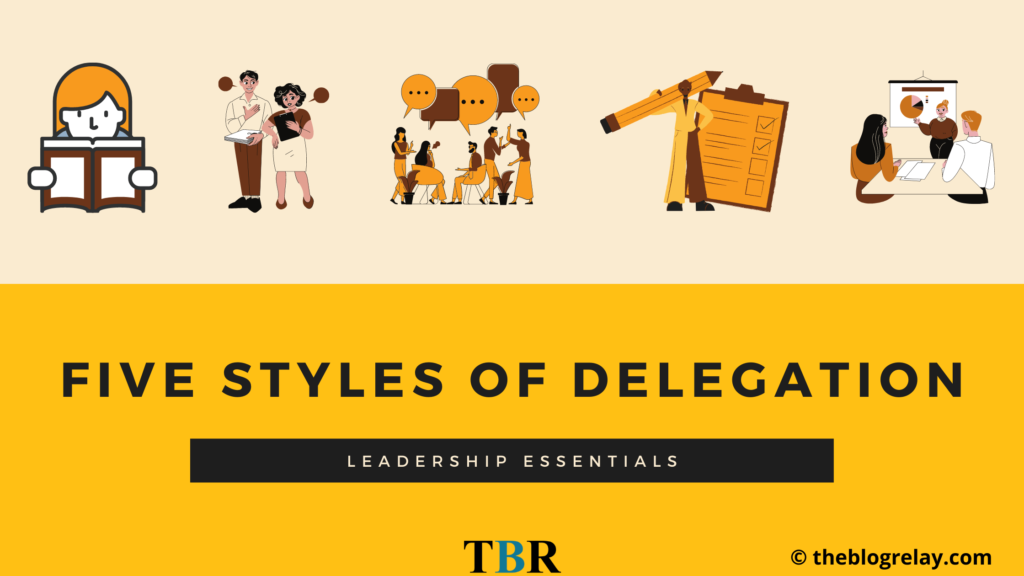 Delegation is an essential leadership skill, yet it isn't easy to manage it. Types of delegation are different ways in which we delegate tasks. These different ways are what we term 'delegation styles.' Knowing your 'delegation style' will help you understand the right amount of effort required to delegate any task best!
Leadership styles are situational and depend on the team, team members' knowledge, and capabilities. In general, they fall into two categories, namely:
Task-oriented: here, actions are focused on the task. It is one-way communication, where the manager directs the employee to work on specific tasks. It is a goal-oriented style.
Relationship-oriented: where actions are focused on relationships with your team. It is a two-way communication where the manager supports employees in completing their work. It focuses on the team's motivation & happiness level.
A balance between these types is vital as delegation involves more than merely assigning tasks or redistributing workloads. It involves an engaged team and an assignment of authority.
This article will explore five delegation styles to help you delegate effectively and efficiently to complete the work. It will help you determine where you fit in your delegation approach.
#1. Instructional
The instructional way is the basic delegation style. You directly tell the person what to do. No scope of discussion or decision lies here. It goes by the statement: 'This is what you need to do.' You explain the task, set clear expectations, & inform about the timeline, and done!
Upside: It is easier to get the work done your way. No conflicts happen down the line.
Downside: You may overstep sometimes and start micromanaging
Scenarios to apply this style of delegation:
When you are delegating for the first time
The team member is new
The task is straight-forward
#2. Seek Suggestions
In this style, you seek advice from the team member to whom you delegate the task. You do not pass the direct instruction; instead, ask team members to do related research & produce ideas. As a leader or manager, you decide if you need to make any adjustments or changes in the already set approach.
Upside: Decision-making & authority stay with you. Employees also feel involved.
Downside: You need an open mind to accept suggestions for your approach
Scenario to apply this style of delegation:
When you want to start grooming your team members to be more independent
#3. Decide Together
With this delegation style, analysis and all the related decisions are taken together in a consulting manner. You first explain the problem statement & seek solutions or recommendations from the team member. Then, based on mutual agreements, you decide on what to do precisely and how. This style also assigns authority to the team members as they participate in the discussions and are better aware of the work. Your communication skills need to be on par, clear & on a timely basis.
Upside: It encourages collaborative work
Downside: You may over-involve others, which could slow down the execution
Scenarios to apply this style of delegation:
When you trust your team
Manager to lead delegation where you have confidence in his/her ability to execute
#4. Generate a Plan of Action (Bird's Eye View)
In this style, you are only involved in the task from a high-level perspective. The team member (whom you have chosen to delegate to) is in charge of the decisions and the execution plan. Supporting your team becomes your main task here. In this style, you start experiencing the delegation's actual benefits, which gives you time for your actions and an initiative-taking team. If you are delegating at this level, congratulations, as you got the nerve of it & have a great team. If not, don't worry, keep practicing delegation & you'll be here soon.
Upside: Clear expectations setting & incredible showmanship of teamwork
Downside: It can be challenging to let go. You may sometimes set unrealistic expectations
Scenario to apply this style of delegation:
When you are working on multiple projects at the same time
#5. Act Independently
Act independently is a delegation style where you hold the greatest trust in your team. For instance: As the CEO of an organization, you decide to invest in cloud technology. You will directly delegate this program to your CTO, explaining your vision. The CTO's accountability is then to determine how to execute the plan from start to finish.
This style is comparable to the delegation of strategic responsibility
Upside: You delegate the entire work and are concerned from the success or failure perspectives
Downside: Nothing as such is necessary at some point in time. But it is risky as it involves your & your company's reputation
Scenario to apply this style of delegation:
When you are grooming a successor
When you are working on large programs
These are five types of delegation. You may delegate in any style, depending on the work and your authority level. None of these styles competes, but they certainly provide you insights on how you can enhance your delegation skills.
Knowing yourself & your team members make it easier to share strengths while managing the downsides to achieve the set goals
Once you get comfortable around delegation, you should positively attempt to switch your style to realize maximum delegation potential. You cannot keep assigning responsibilities to your team based on your knowledge, as you have to provide them with opportunities to grow their skills & step out of their comfort zones!
Keep delegating!
Want to improve your delegation skills or conduct a session for your team?
Download this delegation tracker template to practice delegation with mind maps or excel. Contact me for training or one-on-one discussions.
Enjoy reading the article? Join a very engaging and thought-provoking series that can make a big difference in your growth journey!