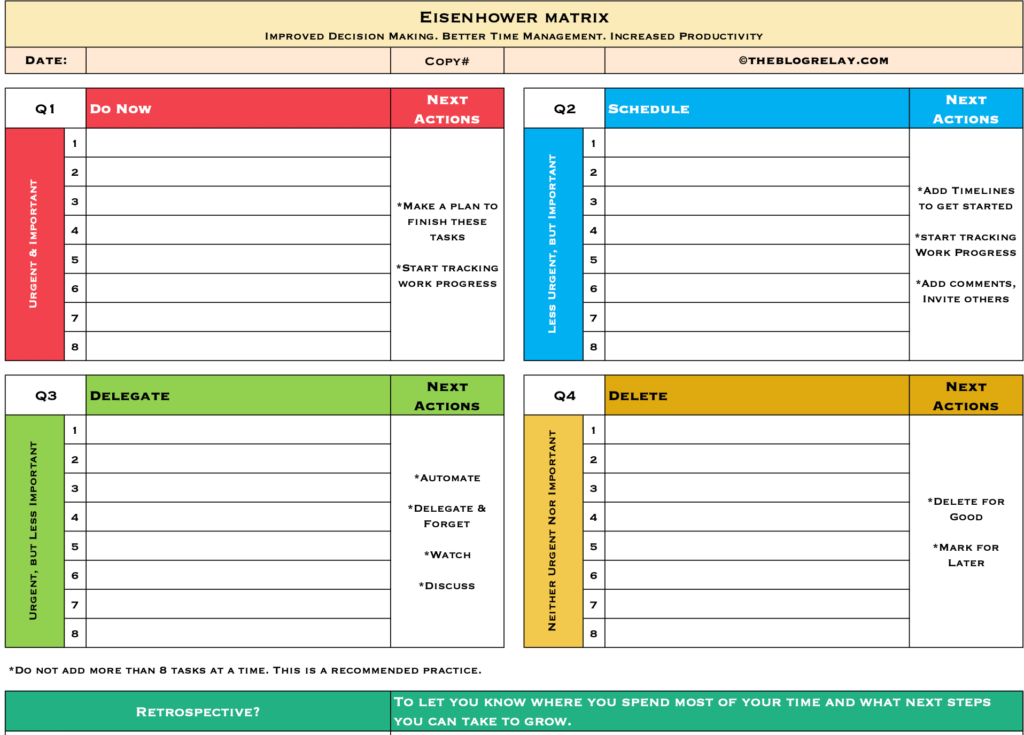 The Eisenhower Matrix is the best way to help decision-making by practicing task prioritization. Both urgency and importance are the main elements of this template. Dwight David Eisenhower – an American army general and the 34th president of the United States, devised this system to manage work pressure.
Why practice this technique?
In preparing for battle I have always found that plans are useless, but planning is indispensable

Dwight D. Eisenhower
It works for both – personal and professional commitments. Make a standard list of tasks when practicing decision-making and time management.
It helps you learn/practice the art of delegation – an essential leadership skill.
Improves time management skills because of which there is an increase in productivity
Furthermore, it aligns very much with the GTD principle, which helps eliminate procrastination.
What you'll download?
Your zip package consists of the following files:
MS Excel template. You can create as many copies as you want & keep the template intact
Google sheets template. Make a copy of this template
PDF version for all who want to print & hang it right in front!
Lastly, a ReadMe file to show you how to get started.
Template Details
Software: MS Excel, Google Sheets
Version: v1.0
Language: English
Licensing: This template is meant for educational purposes only. DO NOT sell/modify/re-distribute for any commercial or other purposes.
Additional Resources
Read the detailed guide here to understand this template.
Explore 'The Eisenhower Matrix' apps for iOS.
This excel template uses formulas to populate the matrix automatically specific to MS Office 365. It might not work on the older versions of MS Excel. You can manually add the tasks to the matrix template. Feel free to reach out to me for any queries or assistance.
---
Like the tool? Make a contribution to help me keep the blog!
---
We have covered it all for you. With this in mind, it's time to practice now. Download the Eisenhower Matrix template now to practice decision-making!